I always like a great deal when it comes to fonts - and this 75% off sounds pretty good to me. Offer code is TNB7563 and is sold at The Northern Block - sale runs until christmas. The font itself seems at first sight very similar to Helvetica, so it can be used as an alternative to that, but it has an edge, so it will get more attention - stick out and have people look at it twice ... and sometimes we just want that, don't we.
#font #type #helvetica #alternative #sale
Reshared post from +Ian Hex
Like me, I know that +Graham Smith has a love for neo-/grotesque typefaces. Today, I was alerted to Jonathan Hill's (thenorthernblock.co.uk/heltar.htm) redrawing of the elusive Haas Unica typeface; it's called Heltar -> http://goo.gl/9Ilx6
"Having grown up in Sheffield and been completely immersed in the work of The Designers Republic I became very drawn to their treatment of Helvetica, especially the close tracking of the letter space. This visual investigation led me to the study of the font Hass Unica, a so called improvement to Helvetica. In-order not to replicate and become a clone of Unica I redrew all the characters from scratch improving optical appearance, developing subtle corrections and reshaping individual letterforms. The result is a remixed neo-grotesque font that has strong general optical balance with great rhythm under close tracking."
The lowercase italic e is... interesting.
And, until Christmas, you can purchase the entirely family at 75% discount.
#hex_typography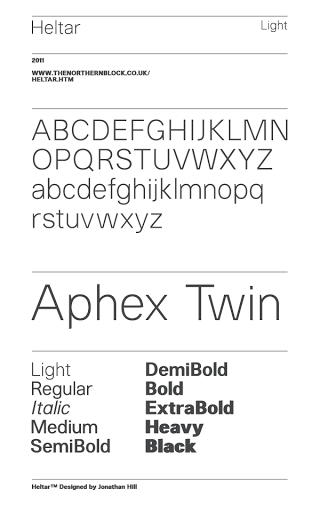 Google+: View post on Google+